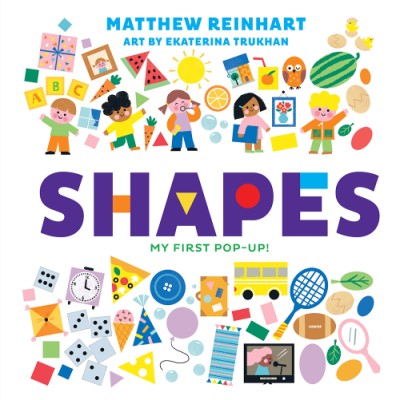 SHAPES: MY FIRST POP-UP!
A fun lift-the-flap introduction to first concepts from Ingela P Arrhenius.
將創意與幾何完美結合的繪本  -Green Tots Club

形狀對寶寶來說很抽象,該怎麼樣讓寶寶認識這抽象概念,並讓大腦正確連想到這些詞彙?這本有趣的翻頁機關與立體彈出設計,邀請到知名的立體書設計師Matthew Reinhart以童趣的彩色圖像,讓寶寶認識這些英文詞彙的基本形象,接著利用書頁中的小機關,看到具體的事物細節....

Learn all about shapes in this dynamic follow-up to Colors: My First Pop-Up! in the Pop Magic series, an exciting line of preschool books from pop-up wizard Matthew Reinhart that makes learning fun!
A stunning, hands-on exploration of shapes for the very youngest readers! Bestselling paper engineer Matthew Reinhart brings his creative genius to this innovative preschool pop-up, connecting basic concepts to interactive elements that will delight and inform little ones with every page. The shapes included are: square, triangle, circle, rectangle, and oval.
ABOUT THE AUTHOR
From as far back as Matthew Reinhart can remember, art always took center stage. Despite moving several times throughout childhood, his sketchbook was always nearby, a constant friend wherever his family roamed. An avid comic, fantasy, and science fiction fanatic, Reinhart has created a huge array of pop culture pop-ups, such as his bestselling blockbusters Star Wars: A Galactic Pop-Up Adventure, Frozen: A Pop-Up Adventure, Lego Pop-Up, and many more. He is also the creator of the Pop Magic series, an innovative line of interactive preschool books including What's Up, Fire Truck? and Colors: My First Pop-Up!. He lives in San Francisco. Ekaterina Trukhan is a Russian illustrator. She graduated from Camberwell College of Arts in London and has since illustrated several children's books. She draws her inspiration from everyday life, mid-century illustration, and the books she read when she was a child. In her spare time, Trukhan enjoys long walks with her husband and their dog. Learn more about her at EkaterinaTrukhan.com. 
翻翻書;12頁
推薦年齡:1-4歲
商品尺寸(公分):15 x 15 x 1.2
會員另外購買商品