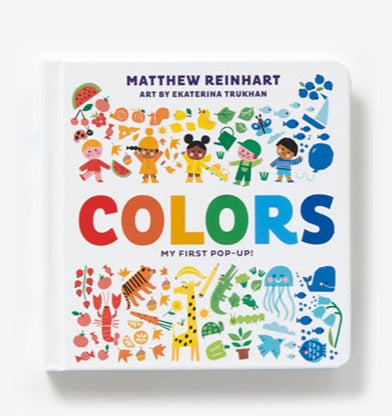 COLORS: MY FIRST POP-UP! (A POP MAGIC BOOK)
顏色對寶寶來說很抽象,直接看圖解釋囉!
經由翻閱,讓左右兩頁看到的色塊因為翻頁而出現不同的圖案。算是讓寶寶視覺驚驗的體驗書。
Introducing the first concept book in the new Pop Magic series, an exciting line of preschool books from pop-up wizard Matthew Reinhart that makes learning fun!
A stunning, hands-on exploration of colors for the very youngest readers! Pull a tab so yellow ducklings pop up to the surface of the pond, lift a flap to reveal a blue whale, and open the final spread for a big pop-up rainbow surprise! Bestselling paper engineer Matthew Reinhart brings his creative genius to this innovative preschool pop-up, connecting basic concepts to interactive elements that will delight and inform little ones with every page.

ABOUT THE AUTHOR
From as far back as Matthew Reinhart can remember, art always took center stage. Despite moving several times throughout childhood, his sketchbook was always nearby, a constant friend wherever his family roamed. An avid comic, fantasy, and science fiction fanatic, Reinhart has created a huge array of pop culture pop-ups like his bestselling blockbusters Star Wars: A Galactic Pop-Up Adventure, Frozen: A Pop-Up Adventure, Lego Pop-Up, and many more. He is also the creator of the Pop Magic series, an innovative line of interactive preschool books including What's Up, Fire Truck? and Colors: My First Pop-Up! Ekaterina Trukhan is a Russian illustrator. She graduated from Camberwell College of Arts (London) and has since illustrated several children's books. She draws her inspiration from everyday life, mid-century illustration, and the books she read when she was a child. In her spare time, Trukhan enjoys long walks with her husband and their dog. Learn more about her at ekaterinatrukhan.com.
翻翻書; 12頁 
商品尺寸(cm):15 x 15 x 1.2